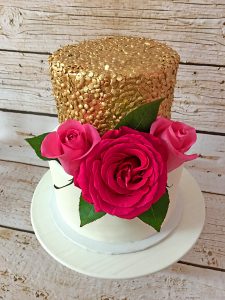 We specialize in cakes for all occasions – from elegant wedding cakes to fun party cakes to smash cakes for little ones, our cakes are created especially for you. We offer tiered cakes, layer cakes and sculpted cakes, all made to order. Our cakes are available in buttercream and fondant varieties. Because we take our time with every order, we do suggest advance ordering for all orders of at least four weeks. We try our best to accommodate rush orders but cannot guarantee. Please contact us for information on pricing, tastings and consultations.
Signature Cake Flavors
Red Velvet*                               Vanilla Bean*
Chocolate*                                Lemon*
Coconut*                                   Confetti*
Almond*                                    Carrot*
Strawberry*                             Banana*
Espresso*                                  Marble
Vanilla Choco Chip*               Pumpkin*
Chocolate Mint*
Brown Sugar Cinnamon
Maple French Toast
Spicy Mexican Chocolate
Premium Cake Flavors
Champagne
Guinness® Chocolate
Buttercream Fillings & Frostings*
Chocolate                                  Vanilla
Cream Cheese                          Nutella®
Lemon                                          Almond
Coconut                                      Strawberry
Mocha                                          Peanut Butter
Oreo                                             Orange Cream
Cocoa Cream Cheese            Chocolate Cherry
Maple Cream Cheese
Vanilla Swiss Meringue
Mocha Swiss Meringue
Lemon Swiss Meringue
Fruit Preserves Fillings* (paired with Swiss buttercream)
Apricot
Strawberry
Pineapple
Raspberry
Seasonal Fresh Fruit Fillings*
Strawberry
Raspberry
Blackberry
Banana
Premium Fillings
Chocolate Chip Cannoli Cream
Dulce de Leche
White Chocolate Buttercream*
Kahlua Buttercream
Irish Cream Buttercream
Milk Chocolate Ganache
Irish Whiskey Ganache
Coffee Chocolate Ganache
Key Lime Curd
(*) Denotes a Gluten Free version is available.
Premium cake flavors/fillings and out of season fruit selections will incur additional fee.
Pricing
Our custom cakes are priced by intricacy of the design and serving size. Everything is built to your specifications so pricing without the details is near impossible, as it ranges greatly. For a starting reference, our Fondant covered cakes start at 200.00, Buttercream cakes with fondant details start at 125.00, Wedding Cakes start at 500.00, Sculpted cakes start at 250.00, and Smash cakes start at 30.00 (At this time, smash cakes are available only for clients also booking party cake).



NEED A WAY TO DISPLAY YOUR TREATS?
Please inquire about different towers, displays, stands and platters we have available for you to rent.