Polkadot Cake Shop is a full service custom bake shop located at 137 Stuyvesant Ave in Lyndhurst, NJ. We specialize in desserts that impress both the eye and the palate, and bake from scratch in small batches, using high quality ingredients like real butter and pure Madagascar vanilla beans. You can always expect fresh and delicious treats from us, be it at your backyard BBQ, wedding, a large scale food truck event or anything in between. We work with you to individually design your custom treats so that your vision can come to life, and add that something special to your event.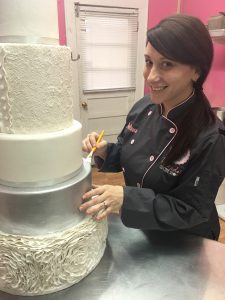 Owner and lead cake designer Arlene Murray brought her sweet dream to life with Polkadot in 2011. She was previously employed in Human Resources Management before obtaining her M.S. in Marriage Therapy. Through those years, baking provided a sweet release after a stressful day. In 2011, with an unpredictable economy leaving her in between jobs, she set out to find a more fulfilling endeavor and turned her baking hobby into Polkadot. Arlene is a self-taught baker and cake designer, and enjoys working with both buttercream and fondant to create edible works of art.
In 2013, the business was expanded to include the Polkadot Cupcake Truck, and in 2016, after working in commissaries and shared kitchen space for 5 years, Polkadot's own custom cake studio was opened. In Spring of 2018, the food truck was upgraded to a unique and elegantly rustic vintage vending camper for private events.
Polkadot Cake Shop is part of the NJ Food Truck Association and has been awarded several prestigious titles including winning The Knot Best Of Weddings 2018, ranking as the #25 food truck in America by The Daily Meal, being named one of the Top 13 food trucks for weddings by New Jersey Bride and Top 40 food trucks to visit in New Jersey by NJ.com. Polkadot has been featured on Food Network, The Cooking Channel, NBC New York Live, Entrepreneur Podcast Radio, in InTouch Magazine, 201 Magazine, The Record, 201 Family and NorthJersey.com.